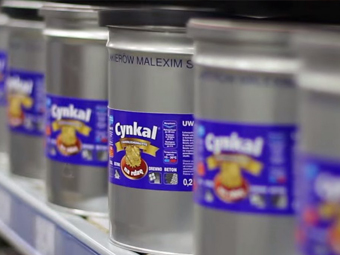 Painting products manufactured in Fabryce Farb i Lakierów MALEXIM Sp. z o.o. are based on the latest achievements in both raw materials and technology.  We cooperate with the most important Polish and world producers of resins, fillers, solvents pigments and auxiliary agents. These are modern and environmentally friendly components.
Moreover, we have developed our own – simple yet modern – production technology. Each colour of paint has its own stand, thanks to which we have eliminated large amounts of solvents from production processes, which are necessary for washing the equipment. Fast-running dissolver mixers allow for efficient and energy-saving work. The computerized order control system connected with production and forwarding allows us to carry out shipments on an ongoing basis without the need for costly storage of finished products. As a result, orders are realized within 24-48 hours.
The specialty of our company are deliveries – in agreement with distributors – directly to the recipient without the distributor's warehouse. This allows us to shorten the time of order execution and reduce its costs to the benefit of the customer.
The groundemalie CYNKAL and EKOCYNKAL produced by MALEXIM are recognized and modern painting products. They allow for quick and economic execution of painting works by professionals, as well as by individual customers. They are versatile products – they can be applied on various materials: metals, mineral and ceramic substrates, wood and even most plastics. An unquestionable advantage is the possibility of applying CYNKAL and EKOCYNKAL directly on rust. Thanks to this, they are widely used both for home use and professional work. Our paints have been used many times in power engineering, hydrotechnics, anti-corrosion work on large industrial facilities, pipelines and many others.