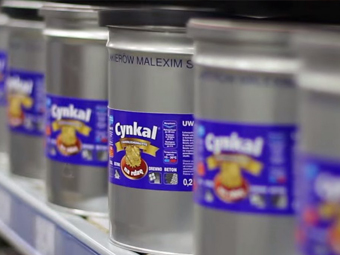 Fabryka Farb i Lakierów MALEXIM Sp. z o.o. was founded in 1993 by Andrzej Górzynski. Using the experience and patents of the co-owner, we have implemented many modern preparations and paints to be applied on clean metals and surfaces difficult to completely clean from corrosion products.
Our best known and appreciated paints on the market include mainly products based on acrylic resins, among others:
POLRUST – ecological primer for use on rusty steel and cast iron components (where the substrate cannot be cleaned);
EKOCYNKAL – ecological acrylic paint for less thoroughly prepared metal substrates;
CYNKAL – versatile acrylic primer for steel, non-ferrous metals, ceramic and mineral substrates and wood;
EKOSOLWENT – environmentally friendly detergent – metal-wash remover before painting.
In the second decade of its activity, MALEXIM has introduced a wide range of modernised painting products designed for medium and long-term anti-corrosion painting and a number of products designed for wood, walls and plasters.
The first group includes anti-corrosive products based on chloride, polyvinyl, epoxy and urethane resins, mainly addressed to professional contractors, but the ease of application allows for their application by every user.
The second group includes acrylic painting products for painting walls, plasters, facades, etc., which are part of the MALEXIMEK family, and the third group includes products for painting wood such as wood stains, varnishes, impregnates, or paints for parquet floors.
In 2018 Fabryka Farb i Lakierów MALEXIM Sp. z o.o. celebrates its 25th anniversary. We are glad that every year we have more and more satisfied customers. We are working on the opinion of our customers, constantly improving each of our – even the most recognized – products.