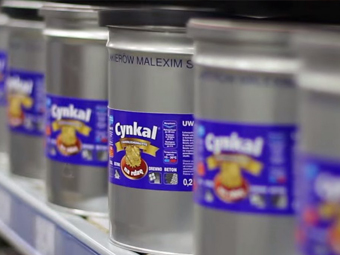 MALEXIM has specialised for years in the production of top quality environmentally friendly paints. The primary role is played by POLRUST and EKOCYNKAL.

POLRUST is an extremely effective waterborne corrosion protection primer for rusty steel and cast iron. When applied to a rusted surface, it reacts with many components of rust and inhibits the development of corrosion. It can be a primer under most decorative enamels.
EKOCYNKAL is an ecological primer that can also be applied on corroded steel, cast iron as well as on galvanized sheets and profiles. The use of these paints allows to eliminate a significant part of works connected with cleaning the substrates before painting. Not only does this prevent environmental pollution during e.g. sandblasting, but it also reduces the consumption of energy and materials for a number of these environmentally damaging activities.
CYNKAL should also be included in pro-ecological products. Properly selected formula of the paint allows to apply this primer-emalk on metals not completely cleaned from corrosion products. It also allows to limit the amount of activities harmful to the environment.
When using CYNKAL for painting galvanized surfaces, environmentally friendly chemicals used before painting galvanized substrates with traditional paints are completely eliminated.
In its production, MALEXIM uses methods that exclude the possibility of environmental pollution and cooperates with packaging recycling companies.
Our care for the environment is in accordance with the QUALITY POLICY, which, with regard to ecology, is a guarantee of care for safety and maintenance of the highest quality standards at all stages of production.